Have you decided to open your own restaurant? Congratulations! However, before jumping headlong into this wonderful adventure, it's important to take the time to think things through and avoid some common mistakes that could cost you dearly. Opening a restaurant is an exciting adventure, but it can also be a major challenge. To succeed, it's important to avoid certain common mistakes In this article, we'll take you through the mistakes to avoid when opening a restaurant: practical guide, 5 mistakes to avoid when opening a restaurant.
1) Not having a solid, realistic business plan
One of the most common mistakes made when opening a restaurant is not having a solid and, above all, realistic business plan. This can lead to mismanagement of your finances and, ultimately, the closure of your restaurant at short notice. New restaurateurs may be over-enthusiastic about their restaurant concept and not pay enough attention to the financial aspects and details of the project. To avoid this mistake, it's important to do thorough research, understand the initial costs, the various operating expenses, the running costs, and plan a solid cash flow. Far too many new restaurateurs focus on the kitchen and neglect the importance of having a good business plan.
2) Neglecting the importance of ambience and service
Another common trap is to focus solely on the food, the cooking, and neglect the importance of ambience and service. More precisely, the customer experience within your restaurant. It's an important element in building customer loyalty. Customers expect more than just a meal, they are looking for a gastronomic experience, a complete consumption experience. You need to think carefully about your customer journey. In other words, from the moment you enter to the moment you leave.
Each stage of your service should have something special that will turn the first-time customer into a loyal one. When creating and opening your restaurant, you need to create an atmosphere that's unique to your restaurant concept, while offering a different, professional service for greater success.
3) Underestimating the competition and not doing enough research
It's easy to overlook the competition and not do enough research on your main competitors in your district, town and/or region. To succeed, it's important to know what other restaurants are offering, how they operate, their market positioning, their food and service offerings and how they differentiate themselves. This will enable you to better understand the expectations of your future customers and find a unique positioning for your restaurant.
It's essential to know what others are offering so that you can differentiate yourself and offer your customers something unique. This will help you avoid the common mistake of not taking your competitors into consideration. Above all, it will increase your chances of success in the restaurant business.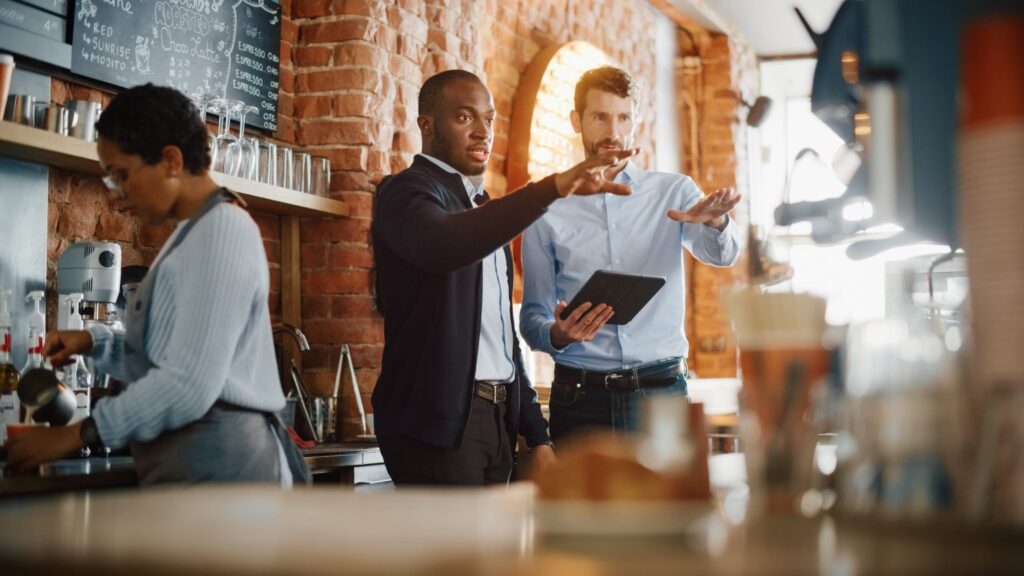 4) Ignore hidden costs
When opening a restaurant, there are often hidden costs and expenses that you, as the new owner, may not have anticipated. This can include higher than expected rental costs, maintenance costs, additional work, higher marketing costs, bank charges, etc. To avoid these unexpected costs, it's important to make a realistic cost estimate and allow for some financial leeway. In other words, you need to consider the unexpected, and work on a detailed financial plan that allows you to foresee all possible costs. This applies to the cost of the project in the start-up phase, operating costs and labor costs. The same applies to sales forecasts.
5) Failure to adapt the menu to customer preferences and needs
A poorly conceived menu can be a hindrance to a restaurant's success. It's important to understand customers' preferences and needs, and adapt the menu accordingly. You may have the most beautiful restaurant in the world, but if it doesn't meet the needs of your target clientele, you may not last. When segmenting and studying your customers, you need to analyze their behavioral phase. For example, their consumption habits, hours of consumption, typical locations, prices charged, etc. The menu is an important element for the restaurateur, and a very important sales tool. If it's badly designed, your restaurant will have little chance of being profitable. And don't forget the pricing structure you're going to use.
Conclusion:
Opening a restaurant is a major investment in terms of time and money. It's important to avoid common mistakes if you want to succeed right from the start of your project. By avoiding the pitfalls mentioned above, you'll maximize your chances of success and, above all, longevity. With a solid business plan and an accurate financial plan, your project is well on its way.
Once again, this article on mistakes to avoid when opening a restaurant: a practical guide, presents just a few parameters to guide you, but be aware that there are many others.
FAQ: mistakes to avoid when opening a restaurant: a practical guide
Q: How can I avoid hidden costs when opening a restaurant? R: To avoid hidden costs, it's important to make a realistic estimate of the costs involved, and allow for financial leeway. What's more, it's a good idea to consult an industry expert to make sure you get the best possible support, and that he or she can give you a detailed breakdown of all the costs inherent in your project.
Q: How can I adapt my restaurant's menu to my customers' needs? R: To adapt the menu to customer needs, it's important to understand customer preferences and requirements. This can be done by conducting customer surveys or analyzing current food trends. It's also important to work on your pricing structure. The customer's choice is also based on price.
Q: How can I differentiate my restaurant from the competition? R: To stand out from the competition, it's important to understand what other restaurants are offering. You need to play mystery shopper and find out as much as you can about your competitors. Once you've analyzed your main competitors, you'll be able to position yourself in specific areas. It could be about a distinctive ambience, special promotions, a different culinary experience, top-of-the-range service, and so on. By creating your own unique dining experience, customers are more likely to return to your restaurant.
Q: How can I create a welcoming atmosphere for my restaurant? R: To create a welcoming atmosphere, it's important to work on the design of your restaurant. But above all, avoid copying or using the same architect that many restaurants have used. You can control the lighting and music. The use of natural, eco-responsible and/or recycled materials will give your restaurant a different kind of welcome. Don't forget that first and foremost, hospitality is the cornerstone of our business. So think about how you're going to welcome your customers.
Q: How can I deal with customer reviews? R: Customer reviews are inevitable, but it's important to take them into account to improve your restaurant. Don't run away. Take the time to respond to even negative criticism. To manage criticism, it's important to listen to customers, respond quickly and professionally to negative comments, and take action to improve reported problems. By effectively managing reviews, you can improve your customers' experience and increase their loyalty to your restaurant. A negative customer can become your best customer. It all depends on how you handle his comment.