In the competitive foodservice sector, it's crucial to stand out from the crowd to attract and retain customers. An establishment's success depends to a large extent on its ability to make a name for itself and attract customers from the moment it opens. To achieve this, it is necessary to implement effective marketing actions. They must also be adapted to the establishment and its target clientele. Here are 7 essential tactics to boost your new restaurant and attract customers. Methods to enhance the value of your new restaurant, based on concrete examples.
So let's take a look at how "7 essential strategies to boost your new restaurant and win over loyal customers" can help you.
1) How can you use social networks to increase your restaurant's visibility?
Social networks have become essential for communicating, interacting and attracting customers. Create accounts on the most popular platforms (Facebook, Instagram, Twitter) and regularly publish attractive, high-quality content. These can include photos of your dishes, videos of your chef in action, or testimonials from satisfied customers. Don't forget to interact with your audience by replying to comments and encouraging sharing of your publications. Interaction is the key to a restaurant's success.
2) Organize special events around your establishment
Organize special events. These can be themed menus or culinary workshops. It's a great way to generate buzz around your restaurant. Invite local media, food bloggers and influencers to increase the reach of these events and create a viral effect.
3) Work with local influencers to reach a targeted audience
Working with local influencers can help you reach a specific audience. You'll also gain visibility quickly. Identify the influencers who match your target audience. Offer them a partnership, like an invitation to discover your restaurant in exchange for a post or story on their social networks. It's important to take the time to choose your influencers carefully.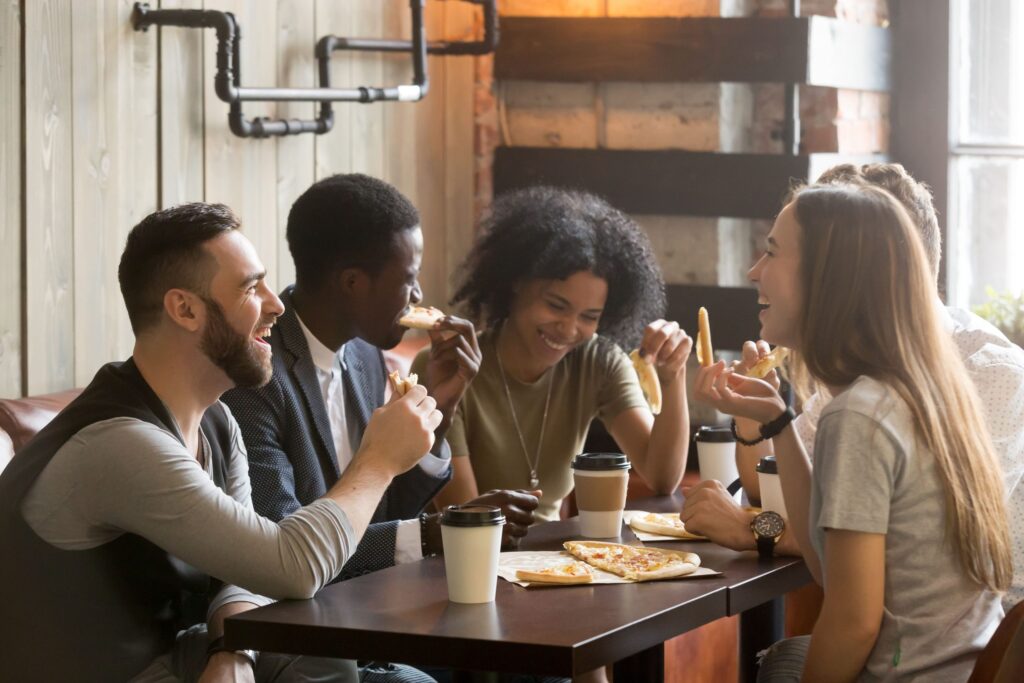 4) Take advantage of partnerships with local businesses to boost
Partnering with local businesses can help you promote your restaurant and attract local customers. For example, work with local producers and suppliers to offer fresh, quality produce on your menu. You can establish partnerships with businesses. Local businesses for special offers and joint events. These collaborations will not only enable you to expand your network, but also strengthen your brand image and support the local economy. The most important thing is to be proactive.
5) How can you offer an effective loyalty program to attract and retain customers to your restaurant?
Introduce promotional offers, such as first-time customer discounts, to encourage customers to discover your restaurant. You can set up an attractive loyalty program. You may decide to reward your best regular customers with a loyalty program. All these actions will contribute to building long-term customer loyalty.
6) The importance of visual communication in attracting customers
Visual communication plays a crucial role in seducing and attracting customers. Make sure your visual identity is consistent. It must be adapted to your concept and your target clientele. Work with a professional graphic designer if necessary. The presentation of your restaurant, both inside and out, needs to be carefully thought out and attractive. Invest in quality signage, appropriate signage and harmonious interior design. The presentation of your dishes, as well as the quality of the photos you share on social networks and your website, are essential to making customers want to discover your establishment.
7) Optimize local SEO to boost your restaurant's online presence
Local SEO is crucial to improving your restaurant's visibility. Whether it's to potential customers in your geographical area or beyond. Make sure you're present on the major online directories and booking platforms. Optimize your website and Google My Business listings with relevant keywords and up-to-date information (address, opening hours, menu). Local referencing can be achieved through word-of-mouth advertising. Satisfied customers become ambassadors for your restaurant.
Conclusion:
To conclude on "How to implement 7 essential strategies to boost your new restaurant and win over loyal customers? There's no denying that promoting your restaurant remains a key objective. By implementing various strategies, you'll increase your chances of success. Don't forget the quality of your offer. Both in terms of cuisine and service. By combining innovative promotional techniques with an impeccable customer experience, you'll be able to set yourself apart from the competition. Grow your restaurant by keeping an eye on market trends. Don't hesitate to adjust your marketing strategies accordingly to continue attracting new customers and retaining those already won over.
FAQ: How to implement 7 essential strategies to launch your new restaurant and win over loyal customers
Q: Which social networks are best suited to promoting my restaurant?
A: Facebook and Instagram are the most popular platforms for promoting restaurants. They allow you to share photos, videos and events. They create interaction with customers. Twitter can also be used to share news and promotions.
Q: How can I organize successful special events?
A: To organize a successful special event, choose an original theme. It must be in line with your concept. You can decide to invite local media, influencers and your best customers.
Q: How can I identify and contact local influencers?
A: Search for local influencers on social networks using hashtags related to your city or region and checking out food bloggers' accounts. You can contact them directly via social networks or by e-mail to propose a partnership.
Q: Which promotional offers are most effective in attracting customers?
A: The most effective promotional offers are those that add value for customers. For example, discounts for first-time customers. Special reduced-price menus at specific times. Tailor your promotions to your target and your concept to maximize their impact.
Q: How can I optimize my local referencing?
A: To optimize your local SEO, make sure you're present on the major online directories and booking platforms. Optimize your website and Google My Business listings by integrating relevant keywords. Keep your information up to date (address, opening hours, menu). Also encourage your customers to leave positive reviews on these platforms.